Young Eagles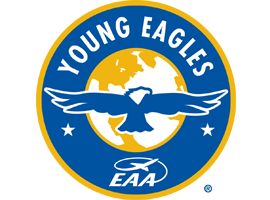 Overview of the Program:
The EAA Young Eagles program was started in 1992 to give interested young people, ages 8 – 17, an opportunity to experience the joy of flight in a general aviation airplane. These flights are offered free of charge and are made possible through the generosity of EAA member volunteers.  Since 1992 more than 2 million Young Eagles have enjoyed a flight through the program, from 90 different countries, having been flown by more than 42,000 volunteer pilots.
Kids age 8 through 17 fly for free with our group of volunteer pilots and ground crew.  We start at 9:00 am and fly until 12:00 pm on the second Saturday of each month, April through October (weather permitting). Registration is required, and links to registration portal are available on our Events page. A parent (or guardian) must be present to sign registration forms. Toward the bottom of the page are some links to additional information and a link to contact our Young Eagle Coordinator. See you on the flight line!
FREQUENTLY ASKED QUESTIONS
How do I register for Young Eagles flights?
Normally, no advanced sign-up is required and attendees are able to show up on the day of the Young Eagles Rally and complete the registration form; however, due COVID concerns, we currently require attendees to register in advance using an online, first come, first serve registration system. The registration system helps us manage capacity restrictions put in place to ensure the personal safety of our passengers and volunteers. We look forward to returning to our typical "walk-up day of" approach just as soon as we can, and we thank you for your patience until then.
How many passengers are permitted on a flight?
Depends on the size of the plane.  Some are only 2 place therefore the number of passengers would be limited to 1.  Many are 4 place and a couple are 6 place.  However, the maximum limit to the number of passengers is 3 for our Young Eagles flights.
Would a parent be permitted to fly along?
Only as an exception on very rare occasions, such as when a Special Needs child requires the accompaniment of his/her care giver.  We have found that most children benefit the most when not accompanied by another adult and the pilot can concentrate on the Young Eagles.
What aircraft will be used?
Our Chapter members own and fly a very wide variety of aircraft.  There is no guarantee that any specific plane will be available at any specific event.  The aircraft range from 2 to 6 seats.  Almost all are single engine aircraft, though on occasion there may be a twin engine aircraft flying.  Sometimes we are fortunate to have a 4 place helicopter. That aircraft is always popular.
How can I find out if the flight is cancelled due to weather?
Check the website, our twitter account and facebook page. We try to post as soon as possible the status of the event whenever it changes. This would include rescheduling, cancellation, delay and so on.  However, due to the accuracy (or the lack thereof) of weather forecasts, the variation in local weather conditions and conditions specific to Clow Airport, we try not to make these decisions very far in advance.  We try our best to conduct flight operations to avoid the obvious disappointments; however, safety is always our primary concern, followed closely by the comfort and enjoyment of our Young Eagles passengers.
Is it possible to bring a group of 8 – 10?
Yes, properly chaperoned groups are always welcome.  Keep in mind, however, that registration forms must be signed by parent or guardian at the event, or arrangements must be made to have the forms signed ahead of time if the parent or guardian is not going to accompany the child.
For more information and to gain a better understanding of EAA's Young Eagles program, please click on the following links. You can also reach the National Young Eagles website by clicking on the logo.
If you have any further questions, please contact our Young Eagles Coordinator: Young Eagles Info